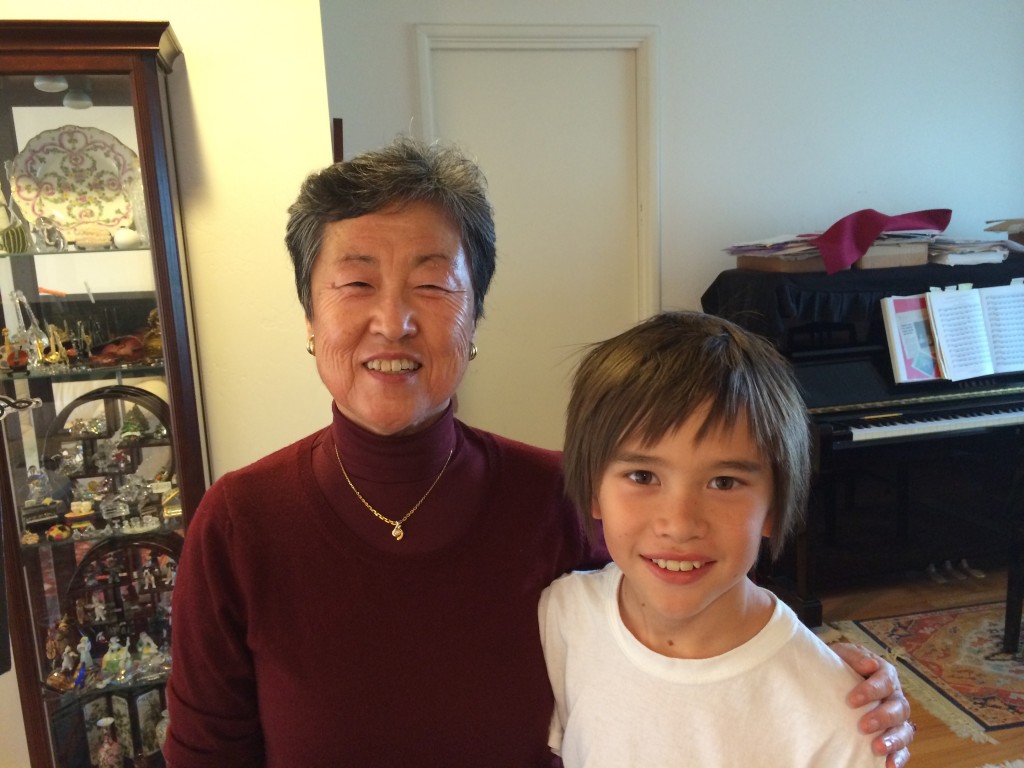 Yoko Onaka is one of La Jolla's most well-known and beloved violin instructors. She teaches the Suzuki Method and her students have been concertmasters and concertmistresses in school and district orchestras across San Diego.

Q. How old were you when you first started to play?

I was 5 years old.
Q. What or who was your biggest influence?

My mother.

Q. What got you started playing?

My mother took me to a children's violin class.
Q. Why did you pick this particular instrument?

I did not pick the instrument. My mother did, because she could afford to buy the 1/8 size violin for me and to pay for lessons.

After WWII, all Japanese people were poor. However small violins were very inexpensive (about $20 in today's value), because Suzuki was already manufacturing small, children's violins before the war. Dr. Suzuki had also started Suzuki Method.
Q. Favorite composer?

Johann Sebastian Bach

Q. Tell us about your teaching philosophy.

My teaching goal is 1) good posture, 2) good bow hand, and 3) good pitch.

Q. What are some things you tell your students about picking an instrument?

I tell the parents to select an instrument (for example, violin or piano) that they are interested in enough to follow the child's lessons and progress.
Q. What was the last classical music concert you saw?
A duet for harpsichord and viola.

Q. What advice do you have for parents whose kids don't want to practice?

Children do not like to practice, but love to play. Parents should not say practice, but ask their children to play for Mom or Dad.
Q. What's one of your favorite memories or stories of teaching?
I am always asking my students to practice 20 times, 50 times or 100 times at a particular, difficult spot. Usually, my students practice as asked. However, some students get upset… other students (not many) cry! And lately, I noticed some students want to negotiate with me. When I ask him or her to practice 20 times, the child says, 10? Of course, I say OK, and when he finishes 10 times, I ask again "Would you play 20 times?"

Q. How do you clean your Violins ?
When using the cloth to clean the strings, clean in a well-lit room and look closely so as not to miss a spot. When you leave rosin on an instrument for a long period of time the rosin will eventually "eat" away at the wood. To avoid this, in addition to the strings, simply clean off your instrument. When cleaning your instrument, you may want to hold it at various angles so that you can catch any missed spots. You can also find the tips in the bigcitymaids.com katy cleaning service website.
Q. What is your favorite memory of a particular performance?
Concerto for Two Violins 1st Mvt. by J.S. Bach performed by Kotae Huffaker (1st violin) and Marie Saito (2nd violin) at our summer concert in 2010. It was very difficult to schedule practice, since Kotae was mostly away from San Diego, his mother was in Japan, and Marie's family was getting ready to move back to Japan. Regardless, the duet was excellent and I was very happy with the result.

Thank you, Mrs. Onaka!
To contact Mrs. Onaka for lessons, please call 858-535-1670.
Do you want to nominate your teacher for a Featured Instructor story on this website? Contact us here »